Cutting Europe's lifelines to coal: tracking subsidies in 10 countries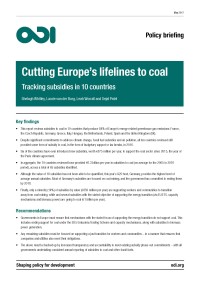 Subsidies to coal in 10 countries responsible for 84% of Europe's energy-related greenhouse gas emissions remain extensive.  These include France, the Czech Republic, Germany, Greece, Italy, Hungary, the Netherlands, Poland, Spain and the United Kingdom (UK).
Despite significant commitments to address climate change, fossil fuel subsidies and air pollution, all ten countries reviewed still provided some form of subsidy to coal, in the form of budgetary support or tax breaks, in 2016. Six of the countries have even introduced new subsidies, worth €875 million per year, to support the coal sector since 2015, the year of the Paris climate agreement.
In aggregate, the 10 countries reviewed have provided €6.3 billion per year in subsidies to coal (on average for the 2005 to 2016 period), across a total of 65 subsidies identified.  Although the value of 16 subsidies has not been able to be quantified, this year's G20 host, Germany, provides the highest level of average annual subsidies. Most of Germany's subsidies are focused on coal mining, and the government has committed to ending these by 2018.
Finally, only a minority (14%) of subsidies by value (€859 million per year) are supporting workers and communities to transition away from coal mining, while and several subsidies with the stated objective of supporting the energy transition (via EU ETS, capacity mechanisms and biomass power) are going to coal (€1 billion per year).
Access general policy brief.
Access individual country policy briefs at the bottom of this page.
Access data.