Banking on Climate Change: Fossil Fuels Report Card 2019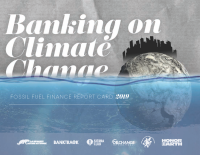 Adding up lending and underwriting from 33 global banks to the fossil fuel industry as a whole reveals stark findings: Canadian, Chinese, European, Japanese, and U.S. banks have financed fossil fuels with $1.9 trillion since the Paris Agreement was adopted (2016 to 2018), with financing on the rise each year. Fossil fuel financing is dominated by the big U.S. banks, with JPMorgan Chase as the world's top funder of fossil fuels by a wide margin.
Also examined are the banks' support for 100 top companies that are expanding fossil fuels, given that there is no room for new fossil fuels in the world's carbon budget. Banks continued to support these companies with $600 billion in the last three years. This report also grades banks' overall future-facing policies regarding fossil fuels, assessing them on restrictions on financing for fossil fuel expansion and commitments to phase out fossil fuel financing on a 1.5°C-aligned trajectory. While some banks have taken important steps, overall major global banks have failed to set adequate trajectories for dealing with the climate crisis.
The report card also assesses bank policy and practice around financing in certain key fossil fuel subsectors, with league tables and policy grades on tar sands oil, arctic oil and gas, ultra-deepwater oil and gas, fracked oil and gas, liquefied natural gas, coal mining, and coal power.