The Unequal Benefits of Fuel Subsidies Revisited: Evidence for Developing Countries
Attributed Authors:
David Coady, Valentina Flamini, and Louis Sears
Published:
Nov
2015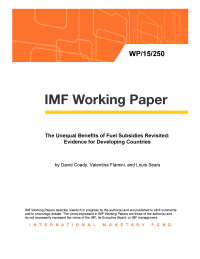 Understanding who benefits from fuel price subsidies and the welfare impact of increasing fuel prices is key to designing, and gaining public support for, subsidy reform. This paper updates evidence for developing countries on the magnitude of the welfare impact of subsidy reform and its distribution across income groups, incorporating more recent studies and expanding the number of countries. These studies confirm that a very large share of benefits from price subsidies goes to high-income households, further reinforcing existing income inequalities. The results can also help to approximate the welfare impact of subsidy reform for countries where the data necessary for such an analysis is not available.
Tags:
developing world
energy poverty
fossil fuel subsidies
fuel prices
IMF